Please Join Us for Our Virtual Camp Information Night on Tuesday, April 4, 2023 at 7 PM EST
Thanks for taking the time to learn more about Camp Kennebec at our Virtual Camp Information Night.  Instead of inviting prospective camp families like yours to an in-person evening, we will use Zoom and appear onscreen in your home. The format will be a short presentation followed by a question and answer period.  We will arrange for virtual break-out rooms too, so you can ask your questions privately, if you prefer.  At our camp information night, you'll meet our directors, learn more about our Camp Kennebec philosophy and how we run our program,  and get answers to all your questions.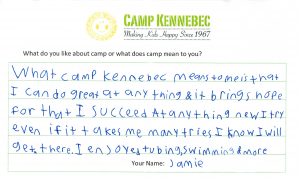 At Camp Kennebec, we're a unique, overnight summer camp for campers aged 6 and up with autism, Asperger's, ADHD, ADD, OCD, brain injury, anxiety, learning disabilities, social skill and other challenges. We offer 50+ waterfront, land and arts activities including waterskiing, ropes course, arts and crafts and horse back riding.  With individualized flexible daily schedules, campers choose the activities they really want to do.  Kennebec offers all the camp fun you expect with the structure, individual attention and support campers may require.  We're near Arden, Ontario — about three hours from Toronto, and 2 hours from Ottawa, on nearly 1,000 acres and 4 lakes!
At our Virtual Camp Info Night, you will . . .
Learn how a summer at Camp Kennebec increases confidence, independence, problem solving skills, self-esteem, and creates amazing memories 

Discover how our unique daily program designed specifically for each camper makes camp enjoyable for seasoned campers and first time Kennebecers alike

Meet Camp Kennebec's directors and senior leadership

Ask questions about our camp program, Leaders-in-Training program for more mature campers, and our Kennebec Indie Team, which combines camp with life and job skills for young adults.

Get the information you need to decide if Camp Kennebec is right for your camper
Information Night Details:
Date & Time: Tuesday, April 4, 2023 from 7:00 – 8:30 pm
Location:       Virtual via Zoom – we will send instructions a week in advance.  Please add our email address [email protected] to your safe sender list.
Please register now for our virtual information night on Tuesday, April 4, 2023 at 7PM 
We're Looking Forward to Meeting You!