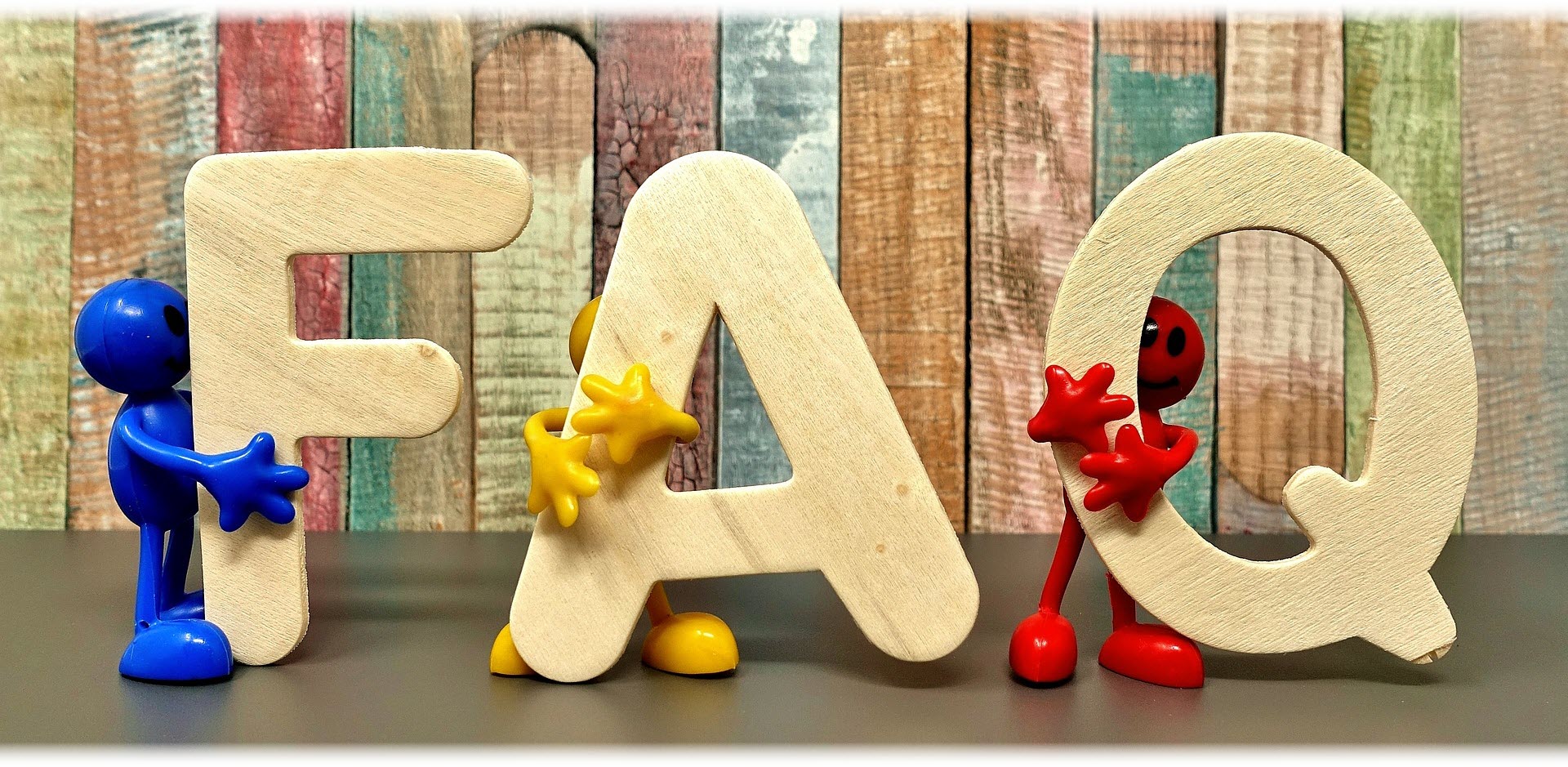 Just click on the camp FAQs to see the answer.
Who are the camp directors? What are their backgrounds?
Camp Kennebec Directors are Donna Segal, Rob Deman, and Sarah Wagner who bring a wealth of knowledge and hands on experience from their many years of camping and working with campers with special needs.
They have a shared vision, inspired by Kennebec's founder Steve Hannon, that Camp must be a fun, happy place that offers one-of-a-kind experiences and a huge sense of accomplishment that campers will cherish for years to come.
Donna has been at Camp for 41 years, and has a background in education and social services. She taught pre-school for 15 years prior to joining Camp full-time. Rob is in his 21st year with Camp and his background is in psychology and education. Sarah has been with camp for 10 years, has a background in education, and worked at schools and in the community in behavioural support for teens and adults with special needs.
What is Camp Kennebec's philosophy?
Create a fun, safe and supportive environment where everyone can reach for the stars and surprise themselves with all they can achieve. We encourage all campers and young adults to take calculated risks and participate in a wide range of social, emotional and recreational activities. Each one of their successes contributes to personal growth and a strong sense of self-worth and confidence. Even the small failures help our campers learn about the value of perseverance. When success does come (and it usually does), campers get to enjoy that unique sense of accomplishment that can only come from achieving a hard to reach personal goal.
What is Camp Kennebec's Covid-19 Plan?
Is Camp Kennebec accredited?
Camp Kennebec is an accredited member of the Ontario Camps Association, and the Canadian Camping Association. Camp Kennebec is in excellent standing with the OCA. The Ontario Camps Association has strict guidelines regarding virtually all camp operations including safety, health, staffing, facilities and activities. The OCA inspects our Camp every 4 years.
Where is Camp Kennebec?
Camp Kennebec is located in Arden, Ontario on 1,000 acres with 6 miles of waterfront. We're 3 hours from Toronto, 1 hour from Kingston, 4 hours from Montreal, and 2 hours from Ottawa.
How long are camp sessions?
We offer eight camp sessions that are one, two, three, four, five, six, seven or eight weeks long. Stays of three weeks or longer allow our campers to get the most benefit from our programming, while one or two-week sessions are a great introduction to camp life at Kennebec. If there is room and circumstances permit, campers may be able to extend their stay.
What happens when a camper is homesick?
Unfortunately, homesickness is a normal part of the camp experience. We train our staff to spot homesickness and use strategies to assist the camper with the tough times. Homesickness occurs typically during rest period, before bed, on a difficult day, or when a camper is sick. We find the best cure for homesickness is distracting campers with fun activities, so they forget to miss home. However, if we see that a situation is not improving, we will call home and discuss the situation and coping strategies with parents or guardians.
Can I call camp to speak with my Kennebecer?
We do not allow campers to receive or make phone calls, except for pre-arranged calls for birthdays and other special events. You are welcome to contact our camp office for a camper update. Please do not send cell phones to camp. We will confiscate and return them at the end of the camper's session.
What is camp's hiring and screening policy?
We are fortunate to have a core group of well-trained, dedicated individuals who have been at Camp for years. Our kind, caring and experienced head staff members are professionals who create and perpetuate the warm, caring and fun Kennebec community that leads to success. Our counselor team includes teachers, educational assistants, child and youth care workers as well as university and college students enrolled in a variety of programs. All staff must pass criminal and personal reference checks, and a series of in-depth interviews. In addition, they take part in an intensive week of training prior to the start of camp.
What is the Kennebec individualized program?
About twenty years ago, we developed a unique approach to Camp programming that allows campers to choose how they spend much of the day. We know that making choices can be difficult for our campers, so this approach is a great learning experience, in addition to ensuring campers choose to spend time at their favourite activities. Campers are given the opportunity to decide on the activities they want to try at Camp. Rest assured that during the season, we make sure that campers have the opportunity to try all activities that we offer. Usually, the program a camper actually follows, ends up being dramatically different from what they initially chose. Flexibility is at the heart of the Kennebec philosophy – encourage kids to try new things and to keep trying them so they can master more physical, social and learning challenges and build upon their successes.
Can I send emails to campers?
Yes. Parents, friends and relatives can send email to campers through our camper email service – Bunk1. Once you enrol your child at camp, we will provide you with information on how to use Bunk1. We print emails daily and hand them out with regular camper mail. Please do not stop writing letters though, your kids love to receive "snail" mail. We encourage our campers to write home at least once per week.
Does camp have on-site medical staff?
We have a full time, on-site nurse who administers medications, treats routine colds, and keeps record of camper and staff medical needs. We store all medication in our health centre and dispense it during meals or at prescribed times. There are three hospitals and a full service medical clinic in close proximity to Camp.
What do campers eat at Kennebec?
We serve three nutritious, home-style meals, which we serve family-style from a large platter that the cabin shares. The whole camp eats together. We encourage campers to try new foods, but there are substitutes on hand in case campers do not feel adventurous or do not like the meal. Campers also receive snacks like milk and cookies and fruit twice during the day. Each week our campers visit our tuck shop to choose a treat like granola snacks or juice. Our kitchen accommodates special dietary and allergy requirements.
Is financial aid available?
Camp Kennebec has several contacts for financial aid. Please see the funding links on our website for further assistance. Please act quickly as the funding process can be quite lengthy. We encourage you to apply as early as possible to avoid disappointment.
What is a typical day like?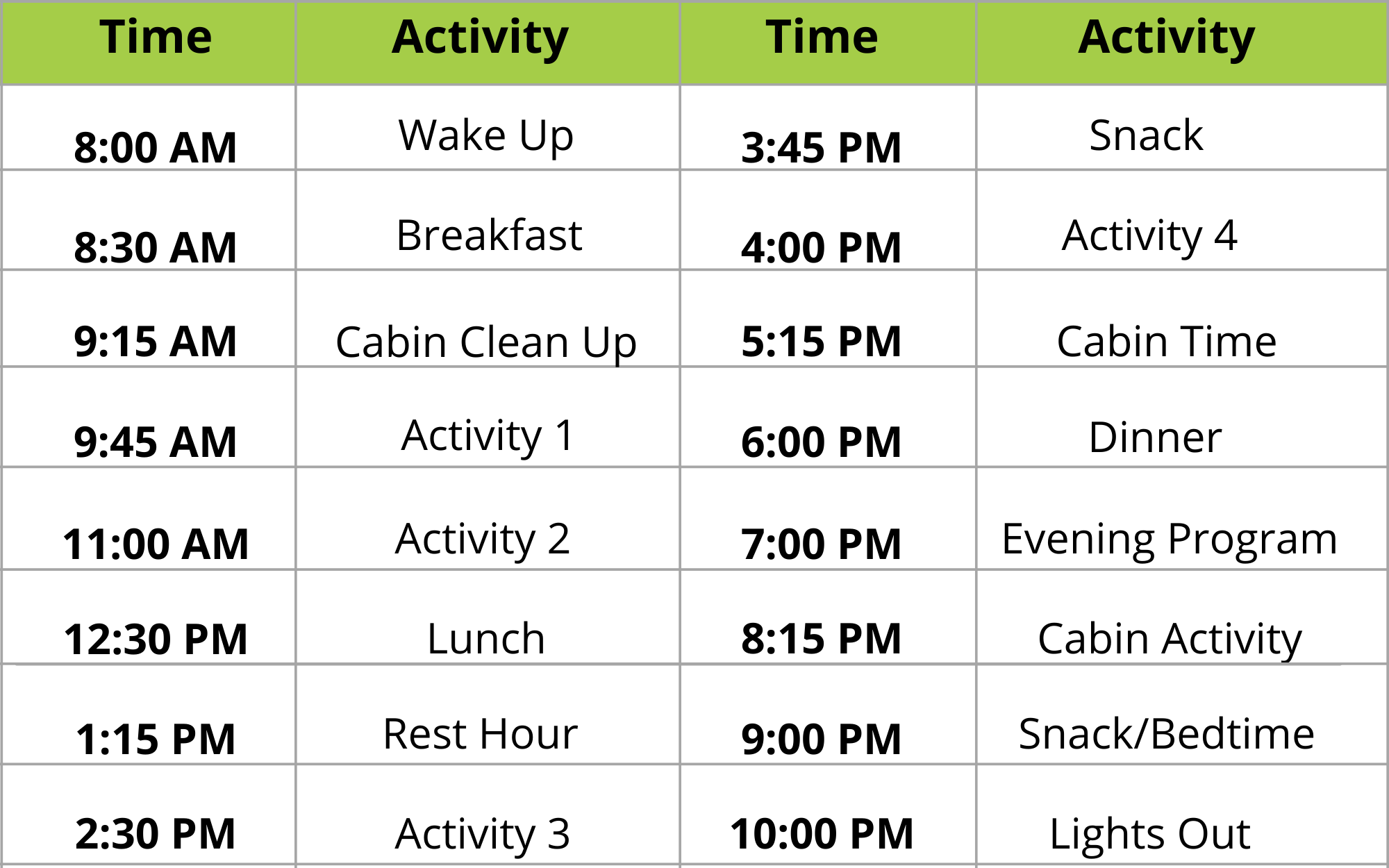 Can we visit before the summer?
Please visit our beautiful Camp and meet Donna, Rob, and Sarah, see our facilities and learn more about our program. Going to camp can be a big, exciting, and scary step in your child's life. Often campers worry about small details that parents would not even consider important. Seeing camp and meeting head staff before the summer, helps minimize concerns about the unknown for campers and parents alike. We will host an open house at Camp for new families in June so your family can tour camp, ask questions and meet some of our head staff.
How do I find out more?
Call us to chat with Donna, Rob or Sarah about what makes Camp Kennebec so special. Then you can decide if Kennebec is the right choice for your camper. We have a list of parents who will share their experience at Kennebec with you. We can also meet with you at our virtual or in-person information nights or arrange a time for your family to visit us at Camp.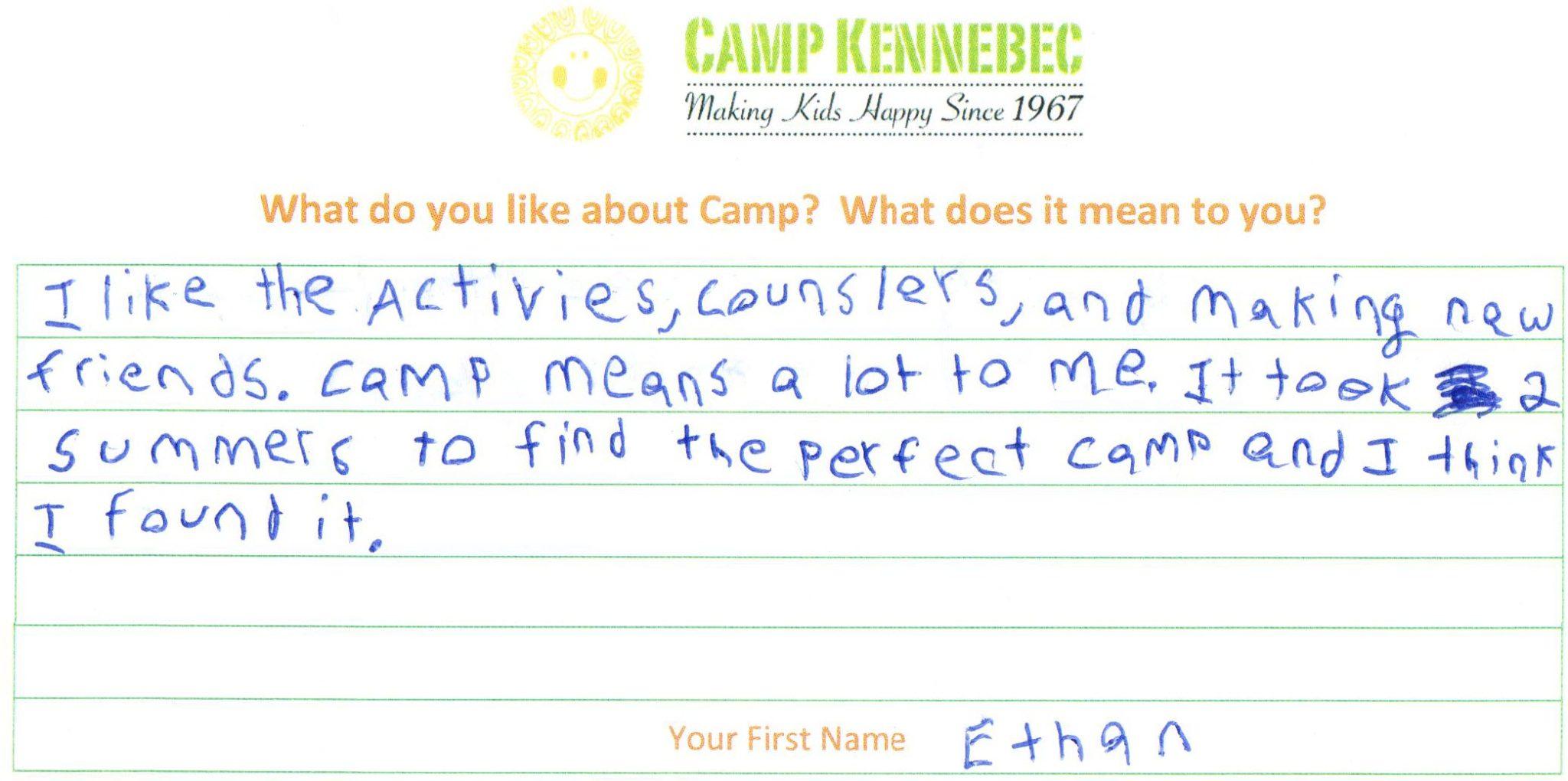 Kennebecer Answers Camp FAQs About What Camp Means to Him
"I believe that my son and my other children grew more in 2 weeks of camp each year (more than school or therapies combined) because of the staff caring enough to help them grow. They see the person each child is, and who they can become." — Parent
"I like all the new counsellors. I met new people. It was an awesome experience. Camp means a lot to me. I love it!" — Camper
"I'm incredibly glad that I chose to work at camp this summer. I've had many great summers before, but I think I can honestly say that this was a summer of a lifetime. I wouldn't want to miss all the experience I gained and the people I met!" — Counsellor
"I have referred families to Camp Kennebec for years, and those families that look into Camp Kennebec have wonderful experiences. As campers begin to outgrow their stay at our inclusive day camp, I am always looking for camp programs that they can grow into. Camp Kennebec is among the top camps that I recommend for our campers and families when a child who requires more support and/or modifications than a traditional overnight camp can offer. The feedback that I receive from our families and campers, who take advantage of all Camp Kennebec has to offer, is extremely positive."
"This camp and all of the staff are so amazing. It is incredible the love, compassion and enthusiasm you all show for the campers (and their families). Having our son recognized by name as soon as we arrived at camp this summer, made him feel so welcomed." 
WHAT CAMPERS ARE SAYING
"I learned to knee and waterboard as well as tubing. They are somethings I have never done before and really enjoyed learning to do them." — Camper
WHAT COUNSELLORS ARE SAYING
"There is no place that I have felt more like myself, ever. I immediately felt at home and that feeling has not changed in four years, if anything it has only gotten stronger. This is a place that EVERYONE should be able to experience, to just laugh and play and be a kid." — Counsellor
WHAT EXPERTS ARE SAYING
"Camp Kennebec allows children with ADHD and other special needs to become confident and independent. Novel activities and social situations allow children and teens to conquer fears, develop friendships, learn how to communicate, resolve disagreements. The overall message a summer at Camp offers is that campers can be successful and autonomous individuals no matter what they encounter throughout their lives." — Expert
"It's a great camp for kids with special needs. The application process gave me the confidence in knowing that they have a screening process to meet the needs of the campers and it's not about filling spots!" — Parent
"I am so happy to be here. I love my new friends. Next year we will all be in the same cabin again!" — Camper
WHAT COUNSELLORS ARE SAYING
"At camp, I learned to become flexible and just have fun. I spent my summer outside helping children have an amazing summer! What more could you ask for?" — Counsellor
"I grew up, and I mean that in the complete sense, at Camp Kennebec when it was still a camp for all children. Kennebec was not just a camp but indeed a second family for me and thousands of others who were joined in a huge Kennebec extended family. The care, imagination and absolute commitment to each child as an individual could not be surpassed. Our summers were magical and every Kennebecer still feels connected to his/her peers, even 45 years later. When Kennebec evolved into a Camp for special needs students I, as a special needs teacher in my professional life, could only admire the complete dedication and Kennebec commitment that went into each child. Now, as a school board commissioner in the West Island area of Montreal I meet parents of special needs students who tell me of their children's experiences at Kennebec when they find out that I went there too. I am not surprised at all to hear how Kennebec changed their lives because it changed mine." — Expert
"He felt confident and happy each and every day. It was clear to us that all the staff really tried to connect with him and make him feel respected, important, and valued. He started talking about going back to camp, the minute we pulled out of the gates. I had high expectations and you definitely met my expectations for him. Thank you!" — Parent
"It's not just about the time we spend here in the summer, I have friends that I talk to during the year now. I start counting down to camp on the first day of school." — Camper