Camp Survey News: Camp Kennebec Rating is 4.6 Stars Out of a Possible 5

At Camp Kennebec, we always want to be improving.  The Camp Kennebec annual camp survey for parents and guardians provides honest and valuable feedback that we rely on.  With over a 50% response rate, we are confident that we're getting clear, honest opinions from families.  Answers to the 20 camp survey questions help us determine how we were doing at meeting expectations.  The questions cover topics including impressions of overall program, activities, staff, and food.

We also ask open-ended questions, so that camp survey respondents can give us advice about what we should keep, add, change or drop to make camp even better.  So far, we've used the camp survey information to guide our bunk improvements, menus, programs, staffing, and decisions about where to make investments in camp facilities.  So here's our heartfelt thank you to the more than 50% of families who respond to our camp survey every summer.

While we knew that Kennebec parents like camp and value the positive impact it has on their Kennebecers, we were delighted that:

Families continue to give camp 4.6 stars out of a possible 5 stars, when we asked them to "Please rate Camp Kennebec on a 5 star system, with 1 star meaning "not meeting most of your expectations" and 5 stars meaning "exceeding most of your expectations.

100% of families answered yes to the question "Would you recommend camp to a prospective family"?

Here are a few samples of answers we received to our open-ended questions:

camp survey answers to "How well did your camper's stay at camp meet your expectations?"

Thrilled my son learned the skill of sterning a canoe, and catch so many fish!  Delighted that he experienced success every day. GRATEFUL he is in such a loving, nurturing, positive, accepting, angel like setting every summer! Camp Kennebec is heaven!

I greatly appreciate the high level of experience that Kennebec has with my son. You know him so well. You have great staff. My confidence in your organization is very high and frankly the most critical element in my camp decision. Building a safe, reliable, and capable net of support is very challenging for families of special needs kids – Kennebec has grown to become an invaluable part out our family's support system. Thank you.

My daughter's first experience at a sleep over camp was so positive, we would happily recommend this camp to anyone with a child on the Autism spectrum!
camp survey key findings: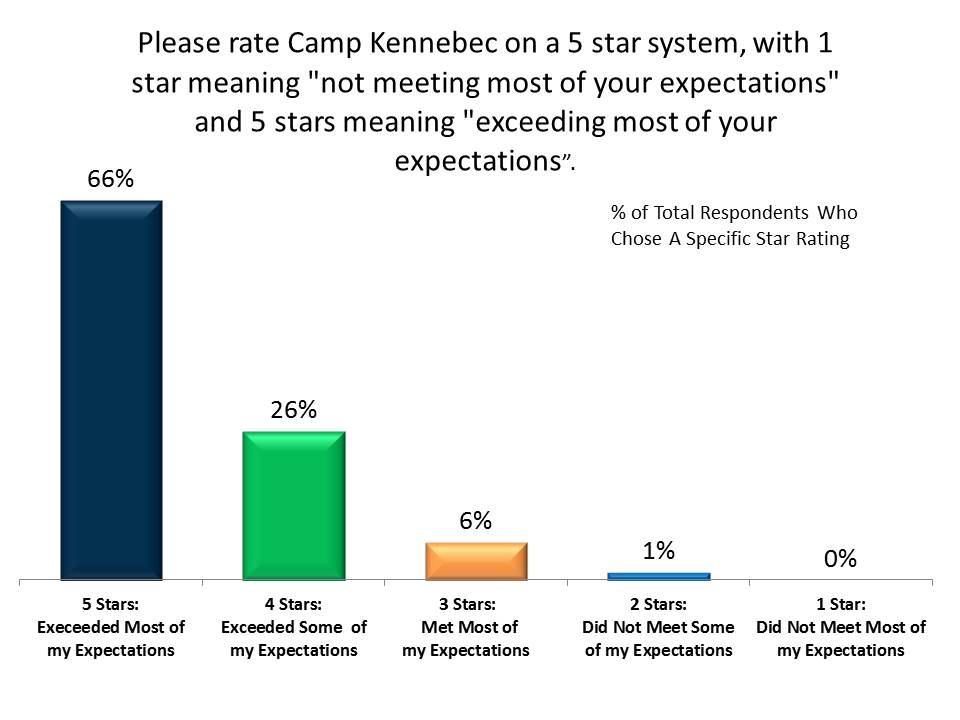 Camp Survey Finds Parents Rate Camp Kennebec 4.6 Stars Out of 5
Interestingly, we did see some differences between the answers from first time Kennebecers and returning families.  Families who already knew us, want more social skills and interactions for their campers.  First time families were looking forward to a traditional camp experience in the country.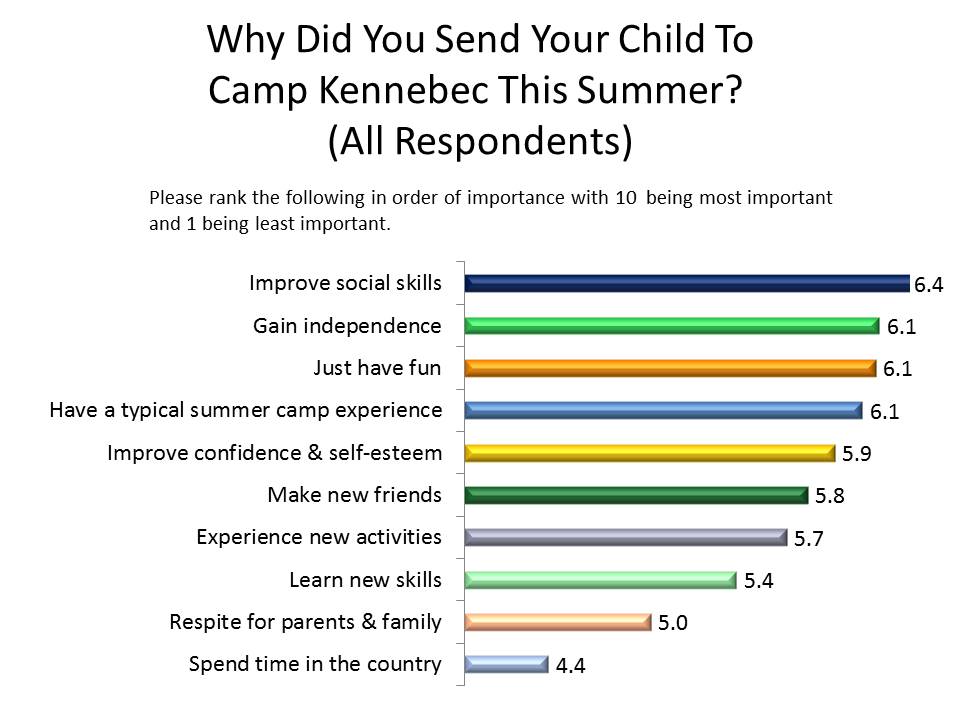 Social Skill Improvement Is #1 Reason for Sending a Camper to Kennebec, According to Camp Survey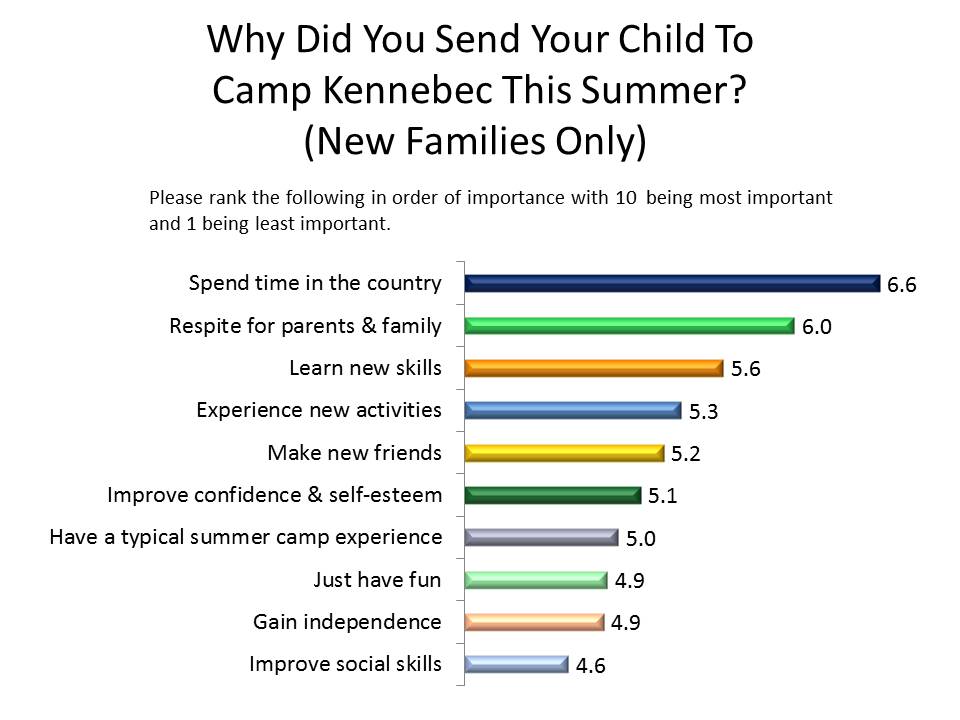 Camp Survey Finds New Camp Families Want Campers to Enjoy Time in the Country
Thanks again for your interest in our Camp Survey results.  If you would like more information about the survey results or Camp Kennebec, please call (613) 335-2114 or email  [email protected].
"I believe that my son and my other children grew more in 2 weeks of camp each year (more than school or therapies combined) because of the staff caring enough to help them grow. They see the person each child is, and who they can become." — Parent
"I like all the new counsellors. I met new people. It was an awesome experience. Camp means a lot to me. I love it!" — Camper
"I'm incredibly glad that I chose to work at camp this summer. I've had many great summers before, but I think I can honestly say that this was a summer of a lifetime. I wouldn't want to miss all the experience I gained and the people I met!" — Counsellor
"I have referred families to Camp Kennebec for years, and those families that look into Camp Kennebec have wonderful experiences. As campers begin to outgrow their stay at our inclusive day camp, I am always looking for camp programs that they can grow into. Camp Kennebec is among the top camps that I recommend for our campers and families when a child who requires more support and/or modifications than a traditional overnight camp can offer. The feedback that I receive from our families and campers, who take advantage of all Camp Kennebec has to offer, is extremely positive."
"This camp and all of the staff are so amazing. It is incredible the love, compassion and enthusiasm you all show for the campers (and their families). Having our son recognized by name as soon as we arrived at camp this summer, made him feel so welcomed." 
WHAT CAMPERS ARE SAYING
"I learned to knee and waterboard as well as tubing. They are somethings I have never done before and really enjoyed learning to do them." — Camper
WHAT COUNSELLORS ARE SAYING
"There is no place that I have felt more like myself, ever. I immediately felt at home and that feeling has not changed in four years, if anything it has only gotten stronger. This is a place that EVERYONE should be able to experience, to just laugh and play and be a kid." — Counsellor
WHAT EXPERTS ARE SAYING
"Camp Kennebec allows children with ADHD and other special needs to become confident and independent. Novel activities and social situations allow children and teens to conquer fears, develop friendships, learn how to communicate, resolve disagreements. The overall message a summer at Camp offers is that campers can be successful and autonomous individuals no matter what they encounter throughout their lives." — Expert
"It's a great camp for kids with special needs. The application process gave me the confidence in knowing that they have a screening process to meet the needs of the campers and it's not about filling spots!" — Parent
"I am so happy to be here. I love my new friends. Next year we will all be in the same cabin again!" — Camper
WHAT COUNSELLORS ARE SAYING
"At camp, I learned to become flexible and just have fun. I spent my summer outside helping children have an amazing summer! What more could you ask for?" — Counsellor
"I grew up, and I mean that in the complete sense, at Camp Kennebec when it was still a camp for all children. Kennebec was not just a camp but indeed a second family for me and thousands of others who were joined in a huge Kennebec extended family. The care, imagination and absolute commitment to each child as an individual could not be surpassed. Our summers were magical and every Kennebecer still feels connected to his/her peers, even 45 years later. When Kennebec evolved into a Camp for special needs students I, as a special needs teacher in my professional life, could only admire the complete dedication and Kennebec commitment that went into each child. Now, as a school board commissioner in the West Island area of Montreal I meet parents of special needs students who tell me of their children's experiences at Kennebec when they find out that I went there too. I am not surprised at all to hear how Kennebec changed their lives because it changed mine." — Expert
"He felt confident and happy each and every day. It was clear to us that all the staff really tried to connect with him and make him feel respected, important, and valued. He started talking about going back to camp, the minute we pulled out of the gates. I had high expectations and you definitely met my expectations for him. Thank you!" — Parent
"It's not just about the time we spend here in the summer, I have friends that I talk to during the year now. I start counting down to camp on the first day of school." — Camper