Leaders in Training (lit) Program 
Leaders in Training (lit) Have Fun & gain Valuable Leadership Experience
We developed our Leaders in Training program to help our teen and mature campers gain confidence, learn how to manage a project and discover their true potential, all while having a great time at Camp. Under the supervision and direction of some of our most experienced staff members, Leaders in Training or LITs as they're known in camp, help organize camp programs, assist with camper supervision and programming, coach and encourage younger campers, work on activities, and help with important camp-wide tasks like separating and delivering the mail, so they are regularly interacting with as many different people as possible.  Our LITs contribute to the best of their abilities.  We acknowledge and value all their contributions.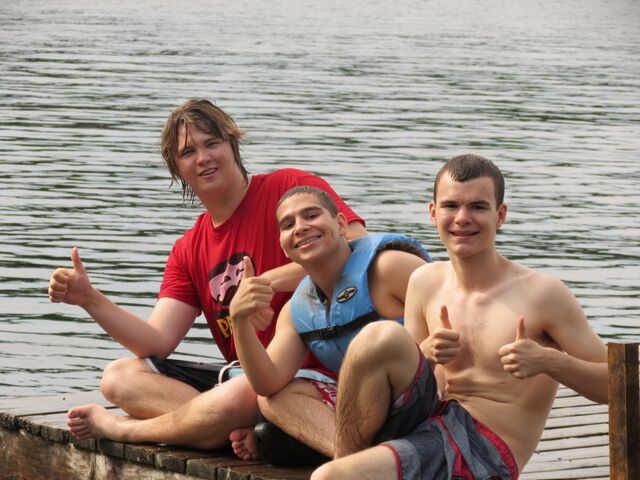 We review every application for our Leaders in Training program carefully to be certain that the prospective LIT likes working with younger campers and is mature enough to understand and accept the increased responsibility and duties that come with being an LIT.  Our Leaders in Training program is a great way for adolescent and mature campers who are ready for bigger challenges to test themselves and learn how to accept responsibility, while still having fun.  
LITs are a very important part of camp and act as role models for the other campers. They learn the importance of being on time, directing and supporting others, while receiving a huge confidence boost by knowing their contributions are recognized by campers and staff alike!
When I first started coming to camp I didn't have a lot of control and would get angry once in a while. But it worked out ok because everyone at Camp Kennebec "got me". Now as an LIT I can help younger campers when they have a hard time – like I did. I also love all the fun stuff we get to do like ice cream parties and helping at the dance.
"I believe that my son and my other children grew more in 2 weeks of camp each year (more than school or therapies combined) because of the staff caring enough to help them grow. They see the person each child is, and who they can become." — Parent
"I like all the new counsellors. I met new people. It was an awesome experience. Camp means a lot to me. I love it!" — Camper
"I'm incredibly glad that I chose to work at camp this summer. I've had many great summers before, but I think I can honestly say that this was a summer of a lifetime. I wouldn't want to miss all the experience I gained and the people I met!" — Counsellor
"I have referred families to Camp Kennebec for years, and those families that look into Camp Kennebec have wonderful experiences. As campers begin to outgrow their stay at our inclusive day camp, I am always looking for camp programs that they can grow into. Camp Kennebec is among the top camps that I recommend for our campers and families when a child who requires more support and/or modifications than a traditional overnight camp can offer. The feedback that I receive from our families and campers, who take advantage of all Camp Kennebec has to offer, is extremely positive."
"This camp and all of the staff are so amazing. It is incredible the love, compassion and enthusiasm you all show for the campers (and their families). Having our son recognized by name as soon as we arrived at camp this summer, made him feel so welcomed." 
WHAT CAMPERS ARE SAYING
"I learned to knee and waterboard as well as tubing. They are somethings I have never done before and really enjoyed learning to do them." — Camper
WHAT COUNSELLORS ARE SAYING
"There is no place that I have felt more like myself, ever. I immediately felt at home and that feeling has not changed in four years, if anything it has only gotten stronger. This is a place that EVERYONE should be able to experience, to just laugh and play and be a kid." — Counsellor
WHAT EXPERTS ARE SAYING
"Camp Kennebec allows children with ADHD and other special needs to become confident and independent. Novel activities and social situations allow children and teens to conquer fears, develop friendships, learn how to communicate, resolve disagreements. The overall message a summer at Camp offers is that campers can be successful and autonomous individuals no matter what they encounter throughout their lives." — Expert
"It's a great camp for kids with special needs. The application process gave me the confidence in knowing that they have a screening process to meet the needs of the campers and it's not about filling spots!" — Parent
"I am so happy to be here. I love my new friends. Next year we will all be in the same cabin again!" — Camper
WHAT COUNSELLORS ARE SAYING
"At camp, I learned to become flexible and just have fun. I spent my summer outside helping children have an amazing summer! What more could you ask for?" — Counsellor
"I grew up, and I mean that in the complete sense, at Camp Kennebec when it was still a camp for all children. Kennebec was not just a camp but indeed a second family for me and thousands of others who were joined in a huge Kennebec extended family. The care, imagination and absolute commitment to each child as an individual could not be surpassed. Our summers were magical and every Kennebecer still feels connected to his/her peers, even 45 years later. When Kennebec evolved into a Camp for special needs students I, as a special needs teacher in my professional life, could only admire the complete dedication and Kennebec commitment that went into each child. Now, as a school board commissioner in the West Island area of Montreal I meet parents of special needs students who tell me of their children's experiences at Kennebec when they find out that I went there too. I am not surprised at all to hear how Kennebec changed their lives because it changed mine." — Expert
"He felt confident and happy each and every day. It was clear to us that all the staff really tried to connect with him and make him feel respected, important, and valued. He started talking about going back to camp, the minute we pulled out of the gates. I had high expectations and you definitely met my expectations for him. Thank you!" — Parent
"It's not just about the time we spend here in the summer, I have friends that I talk to during the year now. I start counting down to camp on the first day of school." — Camper