Individualized Program: Campers Select Camp Activities They Prefer
Over the years, we've worked hard to develop an individual camper program. We make a separate daily schedule for each camper, based on what they tell us they want to do!
We strongly encourage campers to make choices outside their comfort zone, often inviting them along just to "watch" an activity, knowing that they will want to participate once they see how much fun the other campers are having. Our enthusiastic staff will suggest, encourage and even cheer-lead at camp activities, but never force campers to participate if they are unwilling.
We find this "choose your preferred camp activities" approach helps build independence, and advocacy skills, while encouraging our campers to improve their decision-making abilities. It also tends to reduce anxiety, as campers choose activities where they have an interest and where they are comfortable.
Fun, waterfront camp activities include games, sports and skills: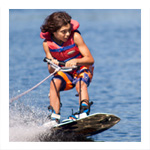 • Waterskiing • Wakeboarding • Tubing
• Instructional Swim • Water Trampoline, Seesaw & Slide
• Paddle Boarding • Water Sports • Waterfront Games
• Free Swim • Island Swim • Snorkeling
• Canoeing • Sailing • Kayaking
• Pedal Boating • Fishing
Expert instruction & skills building: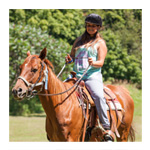 • Horseback Riding • Vertical Playpen
• High Ropes • Zip Lining • Bicycling
• Trampoline •Tennis • Volleyball
• Basketball • Baseball • Soccer
• Archery • Land Sports • Fitness
• Floor Hockey • Yoga
Creative and artistic camp activities to discover hidden talents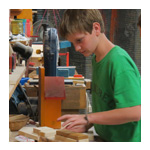 • Music • Wood Shop
• Dance • Drama
• Arts & Crafts
• Singing
• Photography
• Gardening
Special cabin activities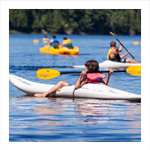 • Overnights on Our Private Island
• Great Group Games • Hikes • Canoe Trips
• Outdoor Cooking • Nature Lore • Skits
• Nature Walks • Camp Outs • Movies
• Team Building Games • Movies • Camp Fire
Leader In Training (L.I.T.) for teens and mature campers
• Our leadership training program for teens and mature campers teaches older campers how to organize activities, assist counsellors, and learn leadership skills. Our LITs coach younger campers at activities and assist counsellors, while still enjoying all our activity choices.
Kennebec Indie Team (K.I.T.) job & life skills for young adults 18+
• Our unique Kennebec Indie Team program for young adults balances camp fun with opportunities to learn important job and life skills. K.I.T.s spend about on third of the day learning to become more independent by taking care of themselves and the hilltop chalet they live in, and working at various jobs in camp. The rest of the day, they get to enjoy all the activity choices camp offers.